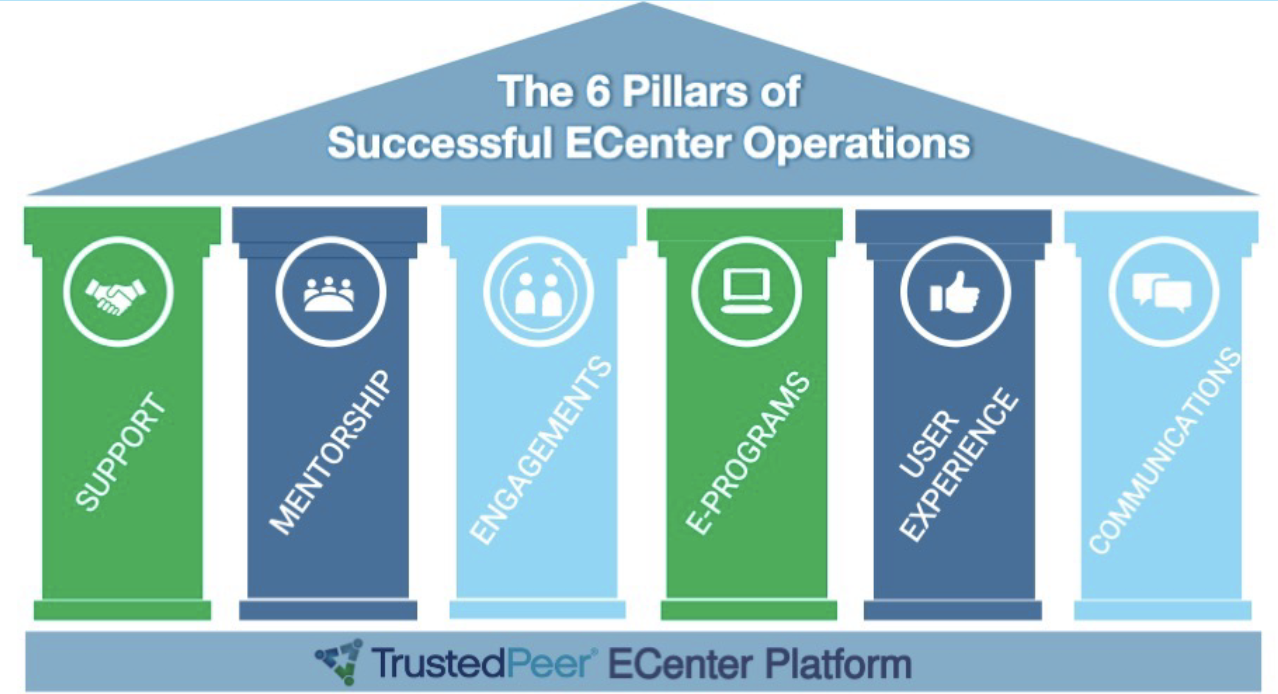 For entrepreneurship center directors, supporting entrepreneurs and encouraging innovation at varying levels and stages of development is a daily challenge.
Is this barrier of stand-alone technologies - with separately managed passwords - what you want your center's customers to hit when they are seeking to engage with you?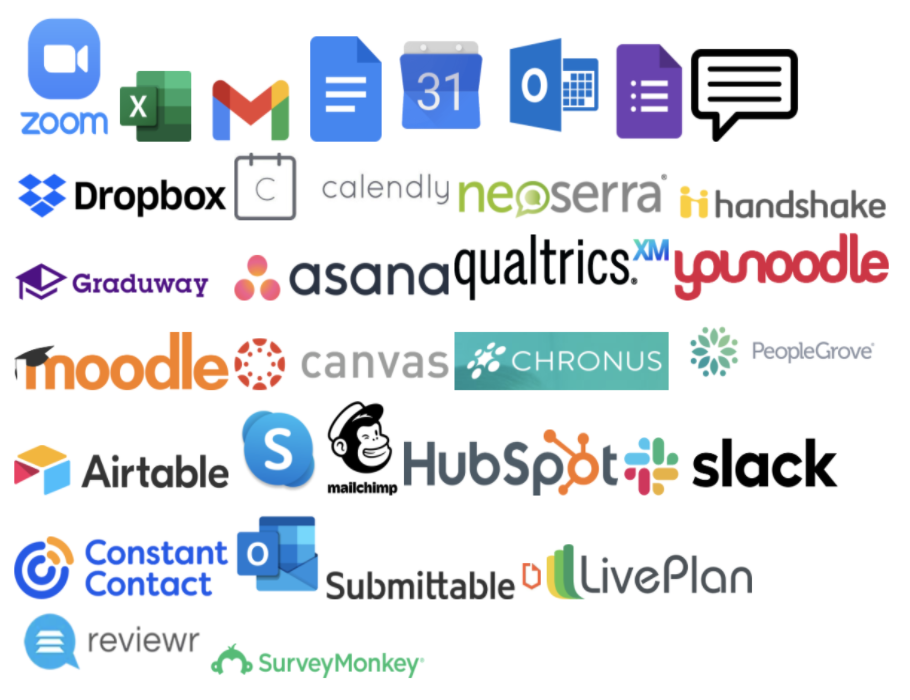 Because a center typically uses between 7 to 11 of these 30 common applications for managing center operations, the sheer numbers of accounts to manage, the log-in info to maintain and learning curves to climb represent a lot of friction and barriers to achieving the vision you have worked to develop for your center.
What is the solution for center directors?
In our research of interviewing 80 center directors, educators, program administrators and entrepreneurship thought leaders across academia, government and industry and by supporting many centers over the last seven years, we have identified:
Six Pillars of Successful Entrepreneurship Center Operations
Service, Support & Advisory

Accessible Network

Structured Engagements

Programs and Resources

User Experience

Communications & Reporting
Pillar 1 - Service, Support & Advisory
As an entrepreneurship center director, you are, in effect, the CEO of a service-based start-up with a continuously changing customer base operating in a continuously changing competitive marketplace, often with limited resources.
University center directors market to a spectrum of entrepreneurs, from first-timers through to experienced CEOs across the entirety of disciplines.
Economic development center and SBDC directors market to a broad spectrum of business owners across multiple industry sectors and stages of development.
Not only do you provide service, support & advisory to your customer base but you and your staff also need ongoing service, support & advisory from your business partners to receive advice and prevailing wisdom from thought leaders.
In addition to these challenges, you must deal with the friction that people, including entrepreneurs and innovators, are often reluctant to embrace new ideas and possibilities even when the benefits are obvious and indisputable.
The human mind is hardwired to favor the familiar. The more familiar we are with ideas, the more we like them. However, entrepreneurship and innovation are not always familiar concepts.
Pillar 2 - Accessible Mentor/Consultant Network
It is not enough to have a "rolodex" of mentors, advisors, consultants and SMEs available for your center's customer entrepreneurs. Those mentors, advisors, consultants and SMEs must also be easily searchable and accessible. (Note: we will use the term "Experts" as a category for all mentors, advisors, consultants and SMEs.)
Have you removed barriers for customers to easily identify the right expert?
Are the areas of expertise easily identified?
Once identified, how difficult is it to schedule a meeting and set the logistics for the engagement?
As an administrator, can you screen customer requests to protect the experts in my network and recommend experts for customers based on their business needs?
Can you develop the network into a community that can grow to include peer-to-peer mentoring, community business partners and alumni recruiting?
Pillar 3 - Structured Engagements
Once a customer/expert meeting is scheduled and the logistics are set, how do you ensure that the meeting is optimized for a desired outcome for all parties?
Was the right expert identified?
Was the time well-spent?
Was the need well defined?
Were additional experts able to be brought in?
Was data easily shared?
Was the customer's problem solved?
Was there an education component for the customer?
Were next steps identified?
Was the customer able to provide feedback on the expert's performance?
Were all of the meeting components captured for analysis by the center?
It is not enough to make an introduction and simply let the two parties "take it from there".
You want to be able to review all meetings, by customer, by expert and by topic for continuous process improvement.
Pillar 4 - E-Programs and Resources
In addition to a network of accessible experts, you want to provide programs and resources to entrepreneurs as they pursue their visions.
Programs can range from accelerators to hatcheries, competitions to incubators, business plan bootcamps to internships, co-curricular to experiential learning, for cohorts of teams to individual participants, instructor driven workshops to self guided programs.
Can you archive program data for analysis and trend identification?
Resources that you make available to customers can range from a content library to discussion boards, job posting boards to hiring positions, makerspace to business partners.
Can you address the changing needs of your customers as they react to their own markets?
If you can't provide the resources and programs your customers want, you know that there are other choices available to them.
Pillar 5 - Customer Experience
Why should forms be considered a pillar of your operations?
Because forms are often how potential customers first experience your center. Forms are where you ask customers for possibly sensitive information about themselves, their ideas and businesses.
Do you want to send customers away to another site or do you want to keep them close to show them how wonderful your center's offerings are?
How you develop and present your forms and whether your forms are integrated tells a lot about how you operate. Forms are how mentors apply, how you get feedback on your programs, how customers can report on their progress, how you can perform A/B testing.
The more control you have over the data you collect in forms, the more informed you can be for achieving the vision of the center you want to be.
Pillar 6 - Reporting & Communications
If you think that all you need is a CRM tool you are forgetting about activity tracking and reporting as well as keeping your customers notified and updated on what you want them to do next.
In addition, a stand-alone CRM tool does not integrate with your LMS programs and network engagement activity.
How easily can your users update their data as their contact info changes?

Is your reporting synched with your center's unique offerings and users by role whether entrepreneur, expert, administrator or program manager?
Summary - Putting it all together
In summary, you need a combined platform and service provider who integrates all of the standalone software applications and processes that you currently use to manage your center into a single, central source.
TrustedPeer ECenter Platform is engineered for University Entrepreneurship Centers, Economic Development Centers and SBDCs to virtually manage and scale operations, deliver experiential programs and enable entrepreneurs and clients to engage with mentors, advisors, consultants and peers.
What about the friction of entrenched behaviors of current operations?
Up front, TrustedPeer Service takes care of configuring the platform for your needs, porting your existing users and historical data, developing your entrepreneurship programs and, on a daily basis, monitoring your operating activities to ensure that your users are optimally leveraging the platform by proactively addressing any issues you may face.
TrustedPeer Entrepreneurship is a community of 5,000 center directors, educators and program administrators continuously providing thought leadership and prevailing wisdom on what works and what doesn't work for successful ecenter operations.
TrustedPeer is a true end-to-end, full-service solution.
Schedule a demo with Philip Bouchard, CEO of TrustedPeer.