Availability Calendar
This page is accessed as:
Contents
The calendar is used to indicate times when you might be available for a meeting. We use this to suggest times for when you can meet: we'll combine your availability with the person's availability to find appropriate times.
This calendar show three types of events:
1) Your designated availability

Time blocks you've created to indicated when you're potentially available. Click on one to change or delete it. (Details below.)

2) Your scheduled sessions

When you've actually scheduled a meeting through this platform, that event appears here also. Click on one to access input for the session.

3) Your "busy" events from connected calendars

Click on one to access your other calendar (Google-based events only: Apple iCloud hosted events do nothing on click). (Details below.)

3:30p

Busy (Google Calendar)

4:45p

Busy (iCloud Calendar)
Why
When you want to schedule a meeting, or when someone wants to schedule a meeting with you, we need to have some guidance as to when you're available. You should add to this calendar single and recurring blocks of time where you're likely available.
Times you specify here will be evaluated in conjunction with times from other attendees to determine a set of times when everyone appears to be available.
How
Click on a day. It's that easy.
A click will add a single event to the calendar and set availability from 9:00am to 5:00pm. Click again on the created event and a popup will allow you make changes: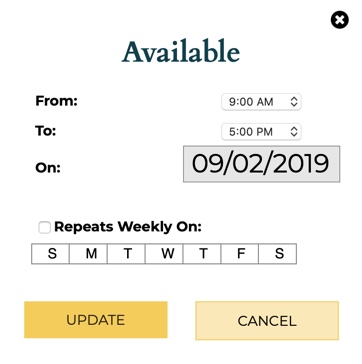 Let's say you're available Monday, Wednesday, and Friday from 10am to 1pm. Click on the calendar event to display the popup and then select the days of week and the new times. If you don't set an ending date, this availability event will repeat "forever". You can always change it later.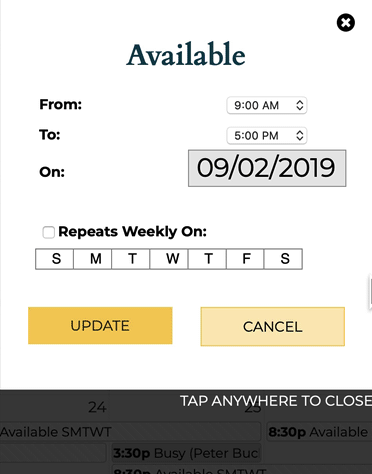 Perhaps you're available every MWF, except on the 18th. You can delete just that event. Perhaps you're no longer available after the 25th: you can delete all future recurrences of this event. Delete too much? You can't undo the delete, but you can easily just create another one.
Final note on availability: if you don't specify any events, we'll simply assume you're available 9am-5pm Monday through Friday. We do this because perhaps you've just not gotten around to providing any information. If you really are not available, specify an event for some time before today. That way, we'll see you've updated your calendar and specifically not indicated any availability for the near future.
Why
So you've set your general availability, but you do have other calendars. Wouldn't it be great if we could avoid suggesting a time when you're already busy?
Many online calendars support third-party access whereby you grant us access to your calendar for the purpose of determining Free/Busy times.
| | |
| --- | --- |
| The idea is that we combine your Availability events (e.g., MWF 9am-5pm) with your other calendar(s) Busy events (Wednesday the 15th 10-11am and 2-4pm) to determine what time you can meet (Wednesday the 15th 9am-10am, 11am-2pm, 4pm-5pm). And, do the same for all invitees. | Wed 15th |
How
Select the Click to Connect button to show registered calendars. To add a new calendar, select the calendar type, provide login / password information appropriate to the calendar type. Select which calendar(s) from that account you'd like to conect and continue.
To remove a calendar connection, click the

Delete icon associated with that calendar.
We do not update your calendar. For most calendar types, we only have read-access, and of that, we can read busy times only—not the subject of your event, other attendees or any attachments. Events may get added to your calendar through receipt of emails: we'll send emails on meeting changes, and your email application will probably automatically add / update your external calendar.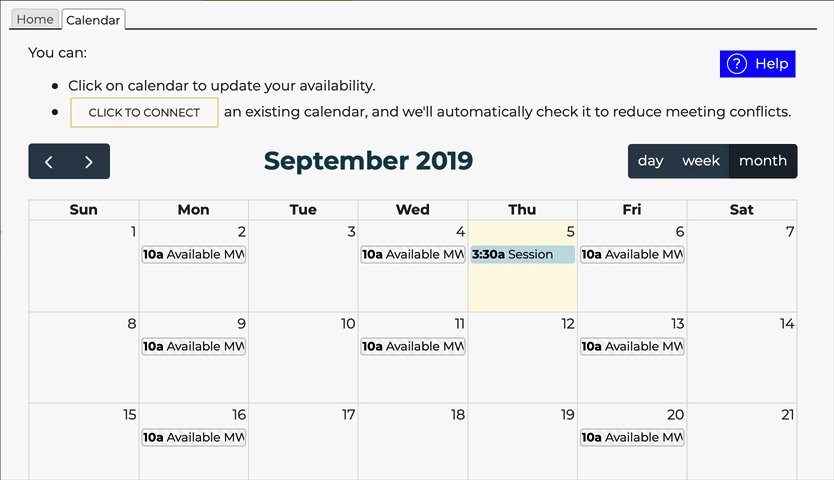 Detailed Calendar Instructions
We are initially supporting Google and Apple iCloud calendars only. For other calendar types, you can continue to use Availability events as described above.
Google

On selecting button, you will be presented with a Google Login popup. On your first login, you may be prompted to grant permission via a popup. Select "Allow" and continue.

Once logged in, you will be presented with the set of calendars associated with this account. Calendars which you have already connected will not be selectable. (To remove access, simple click the icon on the main page.)

The connection with Google provides read-only access, and we're able to see times only. We do not need, and do not receive any specific information about the events on Google Calendar.

Apple iCloud

On selecting button, you will be presented with an iCloud account selection popup. If you have already provided Apple ID credentials, your account(s) will be listed. Otherwise, select Add account.

You'll enter your Apple ID and an app-specific password Once logged in, you will be presented with the set of calendars associated with this account. Calendars which you have already connected will not be selectable. (To remove access, simple click the icon on the main page.)

See iCloud Passwords for details about app-specific passwords.

The connection with Apple iCloud provides read/write access, but we do not write to the any iCloud calendars. The app-specific password also enables the platform to read information about meetings such as subject and attendees, but this information is of no use to us and is ignored and discarded without reading or logging.
See also:
Search:
---
Was this information helpful?
Suggestions for improvement?
Still need help?