Content Administration Tab
From this page you can see most of the site content. (User Profiles may be accessed using the User tab.)
Access is restricted to users with Content Manager privilege.
This page is accessed
If you have more than one content-type, then you will see a list of content-types: clicking on any type will expand to show off items of that type, for example: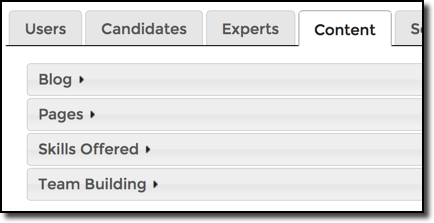 For each content type, there is a table listing all items of that type. Using this table, you can access and change the visibility of any page or post. The checkboxes and published dates are directly editable for most content types within the table (Click on the row, then click on the item to be changed.)
To edit a particular post, click on the

&nbsp Go button.
Post Visibility
In order for a particular post to be visible, a few conditions must be met:
The post must be marked Public
The post must have a Published Date and that date must have passed
If there is an author for the post, and the author is public, then there will be a link so a reader can view the author's profile. If the author is not public, their name and photo will be displayed, but their profile will not be available.
Teasers on Home Page
If configured for this site, we show the two most recent posts which have teasers, on the home page. They are shown in descending order by published date (i.e., newest entry first). This is most often configured for Blog posts. Posts which do not have teasers will never be shown on the front page. If you do not want any posts to show up on the front page, do not provide any teasers. (Teasers are edited on the post's edit page.)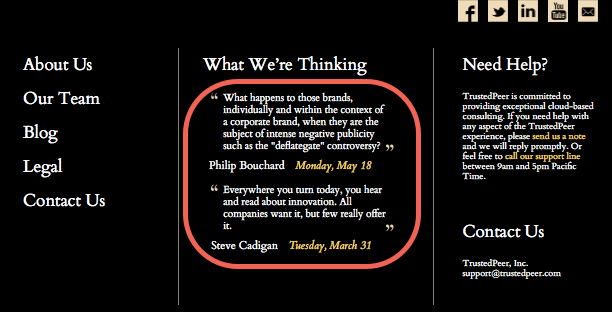 If the site requires users to login prior to viewing information, teasers will not be displayed until the user has logged in.
Main Post Listing Page
Blog Posts, and most other item types may be accessed from a single listing page. This page will show multiple items, and provide links to other items of this type. (Page types do not have a separate listing page.)
For example, on the main Blog page, we show:
ALL sticky posts, in descending order by published date; followed by
the 5 most recent non-sticky posts, in descending order by published date.
For these blog posts, we display the author, title, published date, and the first bit of the post, truncating it to fit in an inch or so vertically. Depending on configuration, we may show the item's teaser instead of the truncated original text.
"Stickiness" can be configured only on this administration page.
Also on the main blog page, we show titles for all Featured posts, in ascending order by published date (i.e., oldest title first)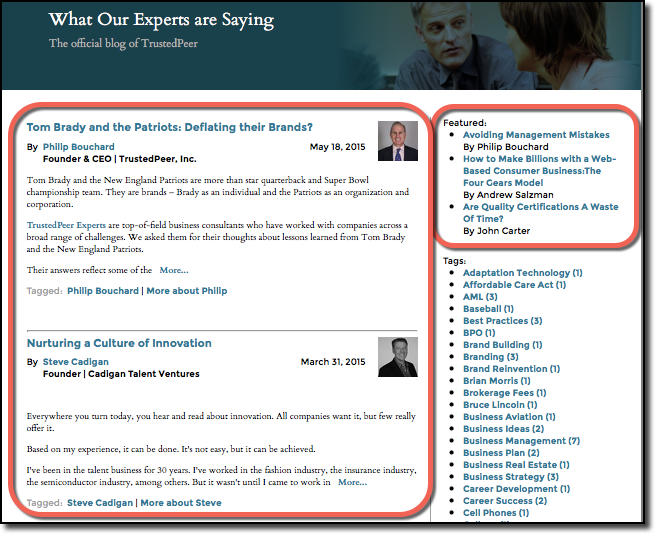 Sticky posts appear at the top of the current blog posts, regardless of publication date. Featured posts appear under the Featured list. A post may be both sticky and featured, either, or neither.
Contact TrustedPeer Support if you would like to change the configuration of the list page:
Number of items to view on the list
Show all, or just a truncated portion of each post (if truncated, we'll include a "More..." link)


Include user-commenting with each post
Include tagging with each post

Include lists of Featured, Tagged, and/or Archived items on the list page.
Item Tables
Most items table have the same set of columns:
Go

Open editable item page.

First, Last Name

will be blank if there is no Author associated with this post.

Public

If checked, the post will be displayed (if the published date has past.) Posts marked public will be automatically visible on their "published" date.

Featured

Featured blog posts are simply added to the "Featured" list, visible in the right-hand column on every page of this type (assuming the post is also "public"). That is, blog items will be show on all blog posts. Featured has no impact on which posts are shown on the listing page -- only whether the post is included in the Featured list. There is no limit to the number of Featured posts, however, the usefulness may be diminished if the number is more than a dozen or so.

Sticky

"Sticky" posts are always displayed on the main listing page (assuming they are public). They are displayed above other posts on the listing page, and have special formatting to indicate to the user that they are somehow special. They are not "Featured" unless that item is also checked.

Closed

This post is closed for comments. Existing comments are visible, but no additional comments can be added. You, as an administrator may delete any comment.

Published

Date when the post may be visible to the public. You may set "Published" to some time in the future and, if public, the post will automatically be made visible on that date. Items are sorted based on their published date.

Visible

This is a calculated field, indicating if this post is currently visible to the user community.

Permanently delete this item.
See also:
---
Was this information helpful?
Suggestions for improvement?
Still need help?