Adding Users
Who Can Add Users
Content Managers

Either to the platform:

Or to a specific group:

Group Admin

Automatically

The platform can be configured to automatically create users who login through Single Sign-On. (This site is not configured for single sign-on.) When so configured, first-time users who login through SSO will be created on the platform as if they were manually added by an administrator.

Team Leaders

Team leaders can add existing users to their team, but cannot add new people to the platform. Inform your administrator that you'd like to add the person to the platform, and then you'll be able to add them to your team.
How Users Are Added
One-by-One
Content Manager can add a user by selecting the Add User... button on the
Dashboard

drop down.

As Content Mgr

dashboard,

Users

tab, or on the

As Group Admin

dashboard.
The difference is that if you use the Groups dashboard, the user will be added to the selected group. This may save you some time, if you're adding more than one user. If you do not use the Group dashboard, you can still add, or move the new user to a different group at a later time.
When you select the Add User... button, a popup will be displayed: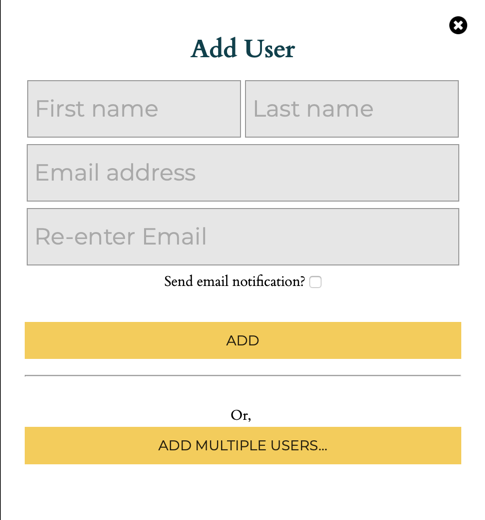 You will need to provide the first and last name, and the email for the new user. Enter the email twice to make sure it is correct.
Immediately below the input there is a checkbox option. If selected, then when the user is added, we'll send a Welcome Email to them which includes login procedures and allows them to set a password. You don't have to send the message immediately: You may choose to add a number of users ahead of time, and then use some other messaging system to notify them. Or, you can click to resend the Welcome Email:
Click Add to submit the information.
New Users will be able to update their on-line profile.
Bulk Upload
Content Manager can also add a number of users at the same time by uploading a comma-separated-value (CSV) file.
To start the bulk upload, click the Add User... as mentioned in the previous section, but click the Add Multiple Users... button.
You'll be presented with a popup where you can choose the file to be uploaded. As before, there is a checkbox option to send Welcome Email to each of the new users.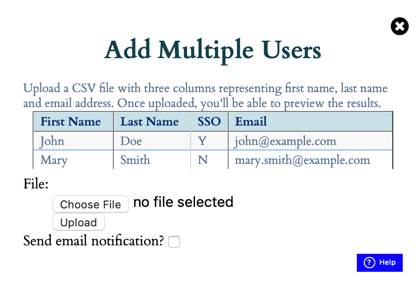 Note the button on that popup. That will take you to this page: Add Multiple Users, where we detail the file format.
The bulk method has many benefits over adding users one-by-one:
You can provide much more information about each new user including telephone number and a short biographical summary
As a convenience, you can upload the same file many times: Users already in the system will be skipped. Note this means we will not change a value (e.g., telephone number) if it differs, but the user has already been added.
One caution: If you're uploading to a Group, all the users will be added to the group (as you would expect). If you upload the same file to another Group, it will add the users to the new group, even though they won't be added to the platform more than once. For this reason, we recommend if you're going to be uploading to groups, use separate spreadsheets. If you're going to be uploading to the Users tab, use a single spreadsheet and let the platform skip already added people.
Bulk Upload and Peer Recruiting
Some organizations gather Peer information through sign-ups or applications. If properly constructed, these applications may be uploaded with little to no modification to create new Peers. See
Using Google Forms for Recruiting
for a detailed example.
See also:
---
Was this information helpful?
Suggestions for improvement?
Still need help?